This week marks an unprecedented achievement for me that I did not plan nor expect to happen: I will have paintings simultaneously on display at three New York exhibits. I am grateful and humbled and hope you can catch one of the shows.  
Studio 13 Gallery at BxArts Factory Presents
BRONX STUDIES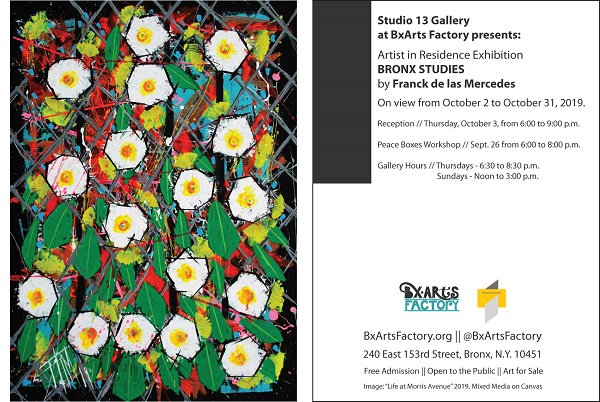 New paintings by Franck de las Mercedes October 2nd to October 31st, 2019   Opening Reception: October 3rd, 2019 Time: 6:00 – 9:00 PM 240 E 153rd St, The Bronx, NY 10451   BxArts Factory is pleased to invite you to the opening reception of Bronx Studies, new paintings by our artist-in-residence Franck de las Mercedes. The exhibition is comprised of 15 works of art and is the result of weeks of examining the Bronx as subject-matter. From the street corner, to a garden and a simple fence, the rich cultural diversity of the borough is reflected in each canvas.      "De las Mercedes finds influence from looking at how life behaves around him, with broken street signs, graffiti murals and street art often informing his use of color - sometimes complex and vibrant, sometimes limited to two or three pigments. It's a visual constellation, a strict adherence to observable fact that suggests De las Mercedes falls outside the boundaries of the rules of art, yet his brushwork and technique embody the most advanced aspects of contemporary painting." Alexis Mendoza, Curator    
"Progressive Transition"
The New York Latin American Art Triennial 2019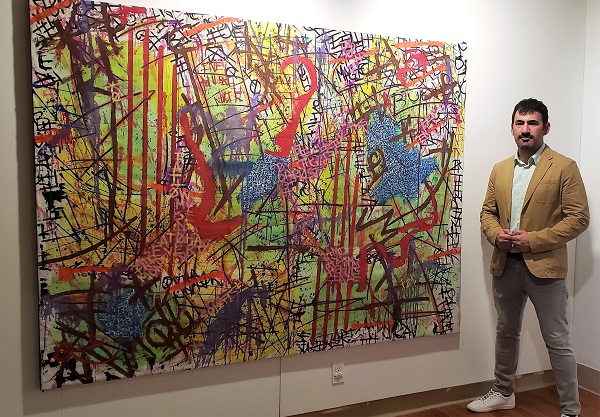 Queens College Art Center
Participating Artists: Franck de las Mercedes, Naivy Pérez, Francheska Alcantara, Diogenes Ballester, Humberto Figueroa, Blanka Amezkua, Marcos Dimas, Gustavo Alfredo Larsen, Juan Manuel EspinozaYsla, Rafael Rodriguez, Rene Maynez and Diego Anaya   September –November 5th 2019 Queens College Art Center
Rosenthal Library Clock Tower, 6th Floor
65-30 Kissena Boulevard, Flushing.      
Color Speaks Truth
A Solo Exhibition of Works by Franck De Las Mercedes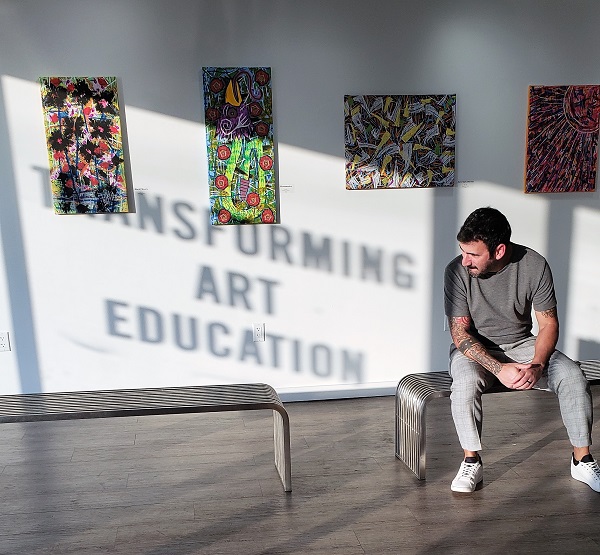 September  - December 8th, 2019 One Rriver Larchmont
2081 Boston Post Road
Larchmont, NY 10538
914-893-6111
Larchmont@oneriverschool.com
The show is curated by Art Historian and Museum Consultant, Carol Ward. The exhibition will be open to the public from September to December 8th, 2019.   "De Las Mercedes' work showcases a joyful energy through movement and color that pulls the viewer into the compositions. Once there, the viewer encounters explorations of various ideas of culture, political commentary and truth. This exhibition continues One River's goal to showcase New York artists with a strong voice who our students and community can learn from and engage with both on the visual level and to enhance their own art making journeys."
--Carol Ward, Art Historian, Museum Consultant and Curator