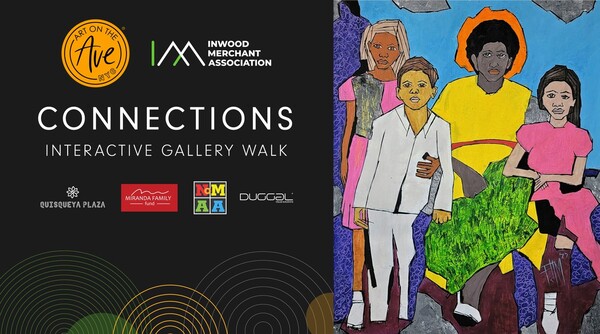 The Household by FdlM   New York - ART ON THE AVE NYC is a community-based project that supports local artists while bringing life and color to our neighborhoods. Our interactive gallery spotlights artists who have produced work around the theme of, "Connections." We hope this exhibition will reflect and radiate the unique spirit of Inwood.   Curated by Ruthy Valdez, this exhibition is a collaboration between Art on the Ave NYC and the Inwood Merchant Association, with the support of NoMAA. Exhibition on view in commercial storefronts in Inwood.

PARTICIPATING ARTISTS: Alannah Sears, Aleathea Sapp-Jimenez, Angela Denise Lee, Arlene Pineda, Barrington Brissett, Chae Kihn, Dan Williams, Dulce Clegg, Emily, Gabrielle Moreno, Franck de las Mercedes, Gustavo Fernandez, Jennifer Ahn, Jimmy Valdez Osaku, Jing Ellen Xu, Jorge Valdez, Leslie Martinez, Paul O'Malley, Peggy Resnick, Rachel Garcia, Rujuta Paradkar, Susan MacMurdy, Tony Serio.  
Opening of the Art Walk
November 30th at 6:00 PM
Plaza Quisqueya
238-224 Dyckman St, New York, NY 10034  
The public will stroll through the various locations and hear artists share the magic behind the work and their connection to the show.